Video surveillance
The e-Killer line is a range of autonomous and self-powered products to support public safety and environmental protection activities.
The e-Killer devices have been developed, engineered and manufactured to be used in any condition involving temporary and itinerant use to combat crime.

Nivi Spa is the exclusive distributor of the e-Killer product line.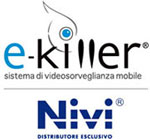 Link to e-Killer website